presentation
Sawmill Feillet based in Normandie, in Orne (61) at Tinchebray.
This family company was born in 1966. Before, the company excel in turning of wood's control stick. Given the bad situation of the french market due to competition, when Mr. Feillet took company over, he had to convert in sawing logs's direction. In this way, in 1974, Sawmill Feillet LLC was created by Mr. Jean-Jacques Feillet.
Later, their two sons joined them inside the company. In 1998, the two brothers, François and Renaud Feillet was associated to buy Barrabé company' premises and create LLC Feillet.
Wood that we using come from forests of Normandie, Mayenne, Eure et Loir, Fontainebleau, Rambouillet… which are managed in such a sustainable way by National Office of Forests or Foresters Experts.
The family' company progress with his time and invests each year to be more performant and ask in the better way our client's questions. We distinguish ourself from our competitors with our extensive choice of products made to measure and our reactivity to product quickly. We propose you PEFC certified wood's, that means it comes from forests managed in such a sustainable way to avoid excessive exploitation.
The two brothers Feillet near exceptional logs bought by Sawmill Feillet :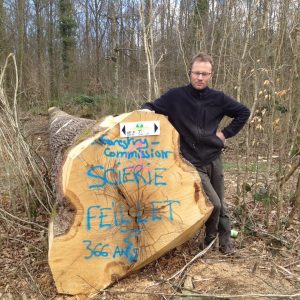 François Feillet – Purchase of a tree aged of 366 years to the ONF in the Forest of Réno-Valdieu named Forestry Commission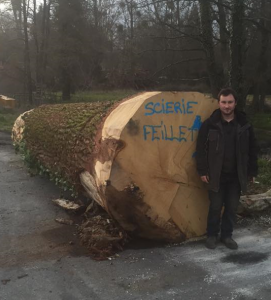 Renaud Feillet – Purchase of a huge log with a tranchage quality and a volume of 8m3
Since 2016 and the organization of the new sawing line in 2017, Swamill Feillet is sawing 30 000 m3 of oak logs by year.